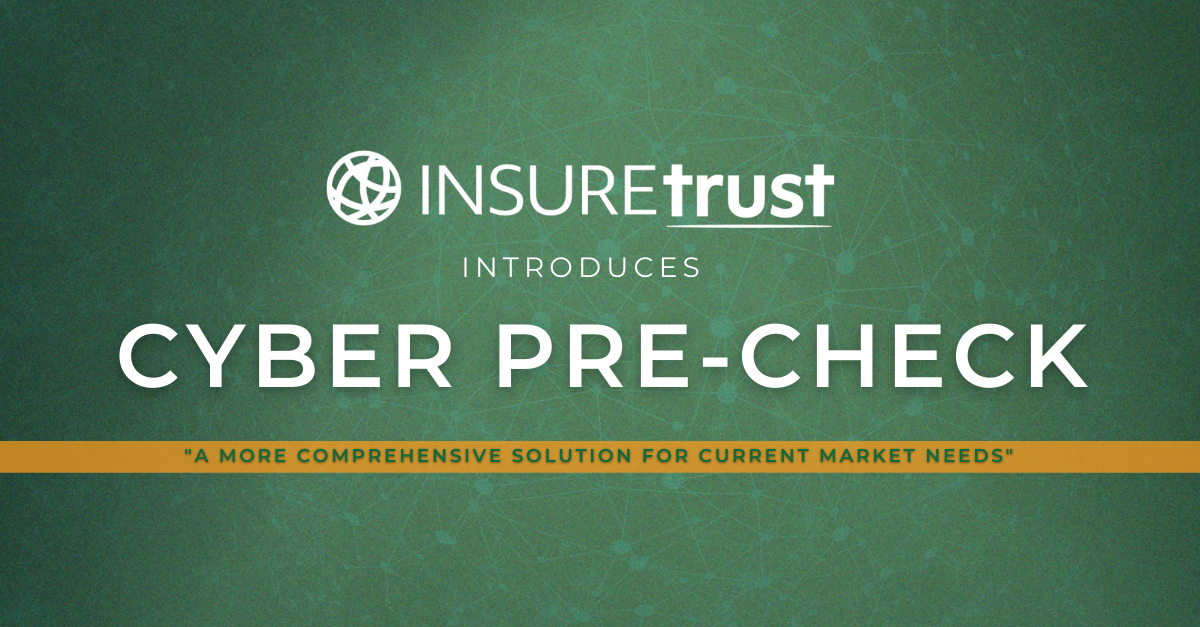 INSUREtrust Enhances Client Experience & Preparedness with Launch of Cyber Pre-Check
June 21, 2023
INSUREtrust, a cyber insurance and risk management specialty broker within Starwind Specialty, is pleased to announce the launch of Cyber Pre-Check, a new innovative product that simplifies application and vulnerability scanning as well as IT and insurance budget processes for policyholders. INSUREtrust combines its own data and analytics with artificial intelligence powered by SecondSight.ai to bring this industry-leading solution to its retail agency partners.
Cyber Pre-Check completes a carrier-agnostic scan of a client's environment prior to going to market, providing valuable data that supports thorough submissions. It also creates a strategically prioritized road map for clients' IT security spend and assists with financial planning around increased limits, helping clients become a best-in-class risk in the eyes of the insurance marketplace.
A more comprehensive solution for current market needs, Cyber Pre-Check utilizes a series of third-party risk modeling to confirm limit adequacy by comparing the percentage of losses insured by a client's current limit against their peer group. Cyber Pre-Check's digital asset inventory enables clients willing to share inventory findings to achieve preferential treatment from top cyber markets. Once completed, the repository saves the client's application, ensuring that at renewal, the client only has to address changes that occurred during the policy period rather than completing an entirely new ransomware application every year.
"Through the use of Cyber Pre-Check, INSUREtrust's network of brokers and partners can experience a new level of confidence, a competitive advantage in the market, and differentiated offerings that enable the delivery of a better client experience," said Christiaan Durdaller, president and CEO of INSUREtrust.
With Cyber Pre-Check, cyber insurance brokers and their clients can access a suite of unique online tools designed to help businesses understand digital risk. This ground-breaking product leverages digital risk quantification tools and enables clients to deploy telematics to help them stay aware of constantly evolving risk conditions in real-time.
For more information about Cyber Pre-Check, email CSP@insuretrust.com
About INSUREtrust
INSUREtrust, headquartered in the Atlanta metro area, is a leading specialty insurance brokerage for emerging risks. The business is a pioneer in the Cyber Insurance Industry as a result of its development
of a unique policy form designed to explicitly cover exposures associated with the internet's emerging digital risks. For more than 26 years, INSUREtrust has continued to be a leader in the insurance industry with its unique innovation and expertise focused heavily on cyber insurance and related risk management. INSUREtrust is a subsidiary of Starwind Specialty Insurance, a subsidiary of CRC Group.
About SecondSight
SecondSight is re-imagining how digital risk is discovered, quantified, hedged, and insured with the industry's first AI-driven platform for digital risk management and cyber underwriting that enables unprecedented, "always-on" views into the true digital risk that lives in a business. Helmed by a seasoned leadership team with deep experience in data science, insurance and asset management backgrounds from Allstate, Bridgewater Associates, Cloudera and Informatica, SecondSight has developed the insurance industry's first AI-driven platform for "inside out" underwriting. SecondSight connects the entire digital risk ecosystem — creating shared understanding around True Digital Risk and a common ground for better collaboration between businesses, carriers, brokers, and the entire digital risk ecosystem.
About CRC Group
CRC Insurance Services LLC is North America's largest wholesale specialty insurance distributor, delivering the broadest range of insurance solutions available in the marketplace today. With 5,100 teammates in offices across the United States and Canada, CRC places more than $35.5B in annual premium across property and casualty, employee benefits, life, annuities, and long-term care. Learn more at www.crcgroup.com.